Home
Dear Clients.
Welcome to the website of Rekreační středisko Doubí (Doubí Recreational Centre). By way of introduction I would like to acquaint you with Doubí as such.
This is a recreational and sports centre that in its location and facilities is one of the best in the Třeboň region. All the accommodation and catering buildings, including the sports grounds, are located in a beautiful, clean and maintained natural environment. The centre provides almost all services you can possible wish for during a lovely leisurely or active holiday. It also provides the maximum number of all types of sports areas, including a sports hall, fitness centre, sauna and so on. It also has an ideal environment and conditions for joint and social events such as various sports stays, tours, school stays, company sports games, jubilee celebrations, weddings, etc.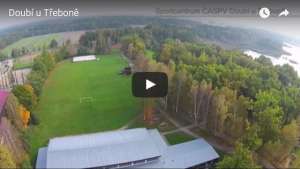 All detailed information can be found when reading through and exploring our website.
Once again I welcome and invite you to our centre.
Barrier-free access throughout the centre.
In centre find first-aid station.
Sportcentrum Doubí